2018 kicked off with a bang when Aspirations of Life, hosted its 2nd Annual Brunch and Bingo for 40 residents at Victory Centre Senior Living, providing a New Year festive occasion for golden gals and guys, some of whom had not had visitors over the holiday season. Brunch, bingo, dancing and free raffles were enjoyed by all.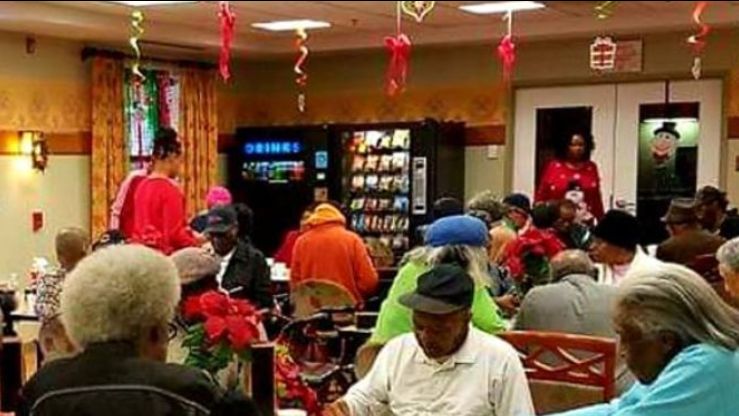 Fulfilling the promise of 2018, and keeping in alignment with the vision and dream of Dr. Martin Luther King Jr., Aspirations of Life hosted its 4th Annual Community Service event, MLK: Fulfilling the Promise. Volunteers came together to prepare hot soup, pack warm winter items and care packages that held hygiene products and non perishable foods.
In April, Aspirations of Life made the prom dreams of a single mom come true by contributing monetary donations, glam squad services (hair and makeup), and a sweets tablescape for the prom send-off affair. Thank you to Aspirations of Life's sponsors!
The Women of "Grace" Meet
By Spring of 2018, all co-authors of Grace, a cross-generational book written by thirty-five women were invited to an exclusive private brunch. It was an intimate afternoon where the authors had an opportunity to meet, take promotional photos for the book release, and fellowship. The most exhilarating detail of the event was the genuine love and prayers that took place. The official announcement of Grace was released in late May; each woman shared heartfelt reflective letters to the little girl or young woman that they once were.  The co-authors ranged in age 29-95 years old. As each contributing author reflected on moments and experiences that shaped and changed the trajectory of their lives, they each faced trauma from the past and revisited wounds that had long been healed. The letters, each filled with advice imparted wisdom and enlightenment to the readers on how to persevere, heal, and walk into their God-given purpose.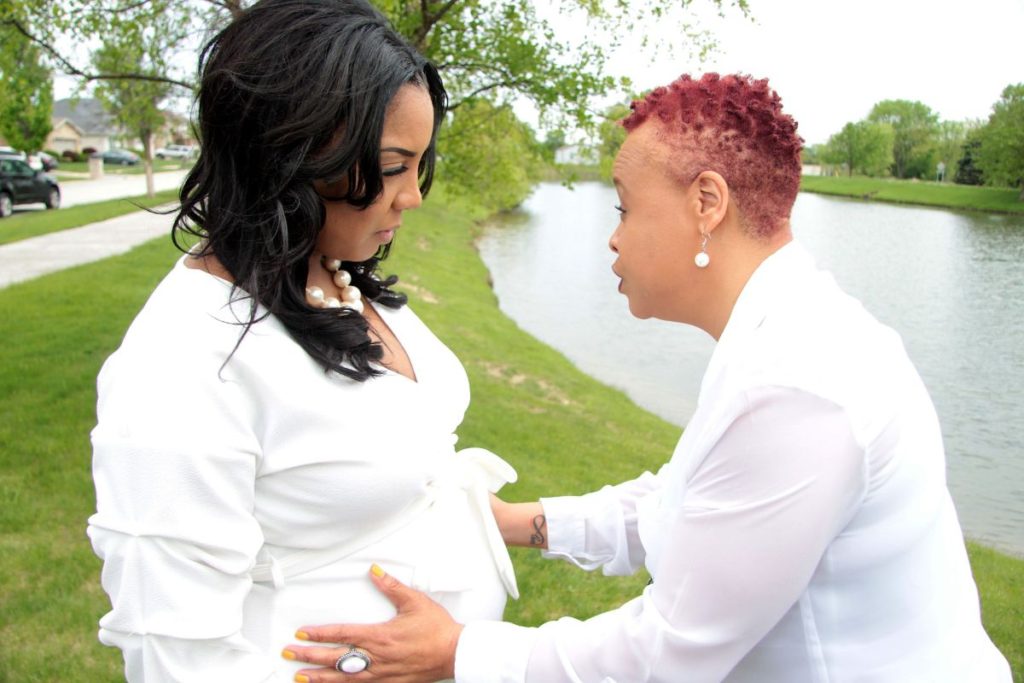 The Official "Grace" Launch Party!
Over 100 Supporters came together to help celebrate the launch of Grace. The celebration was held on a perfect hot summer day in June, at Tall Grass Art Gallery in downtown, Park Forest. The event included light bites, smooth jazz, R&B fusions,
art displays, spoken word artists, author Q&A and reflective words from Lead Author, Tiffany M. Fincher.
Each guest went home with a copy of the book, Grace. 100 additional copies were available and sold outin the same afternoon!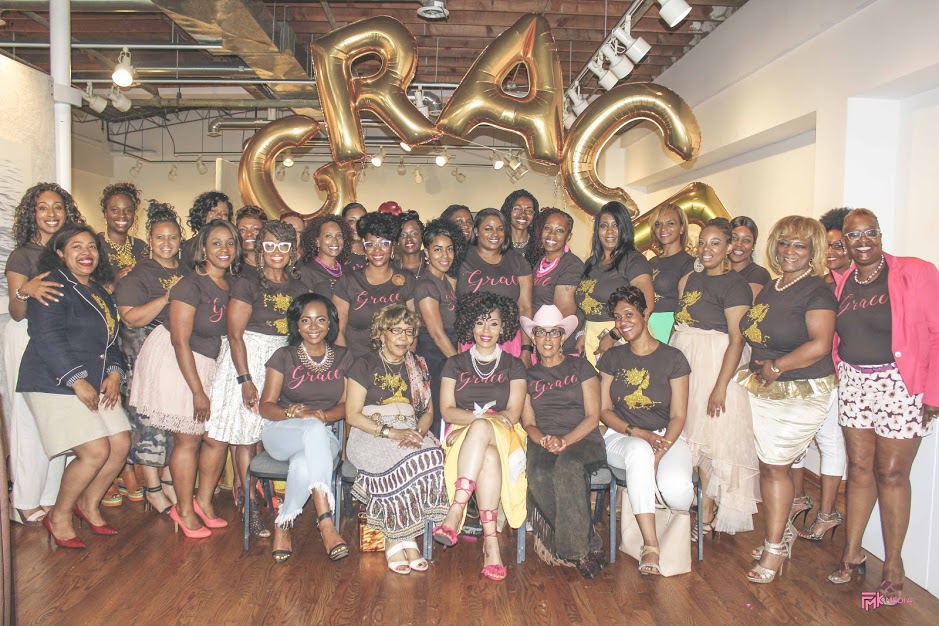 The Media Tour Begins!
Interview with Jackie Horbrook on ArtSoul Radio at the end of June.
Early July, Soul 106, Inspiration 1390 and featured in Rolling Out.  
Grace hosted a Pop-up Book Signing at Vintrendi Wine in Park Forest. Many books were sold and Grace contributing authors enjoyed an afternoon of conversation and wine on Vintrendi's patio The Media Tour Begins!I did an interview with Jackie Horbrook on ArtSoul Radio at the end of June. Early July, I was invited for more radio interviews at Soul 106, Inspiration 1390 and featured in Rolling Out. As an author and lifestyle influencer, I was filled with gratitude for all the buzz and press that filled the city. Grace launched a Pop-up at Vintrendi Wine in Park Forest. Many books were sold and along with other co-authors, I enjoyed an afternoon of conversation and wine on Vintrendi's patio.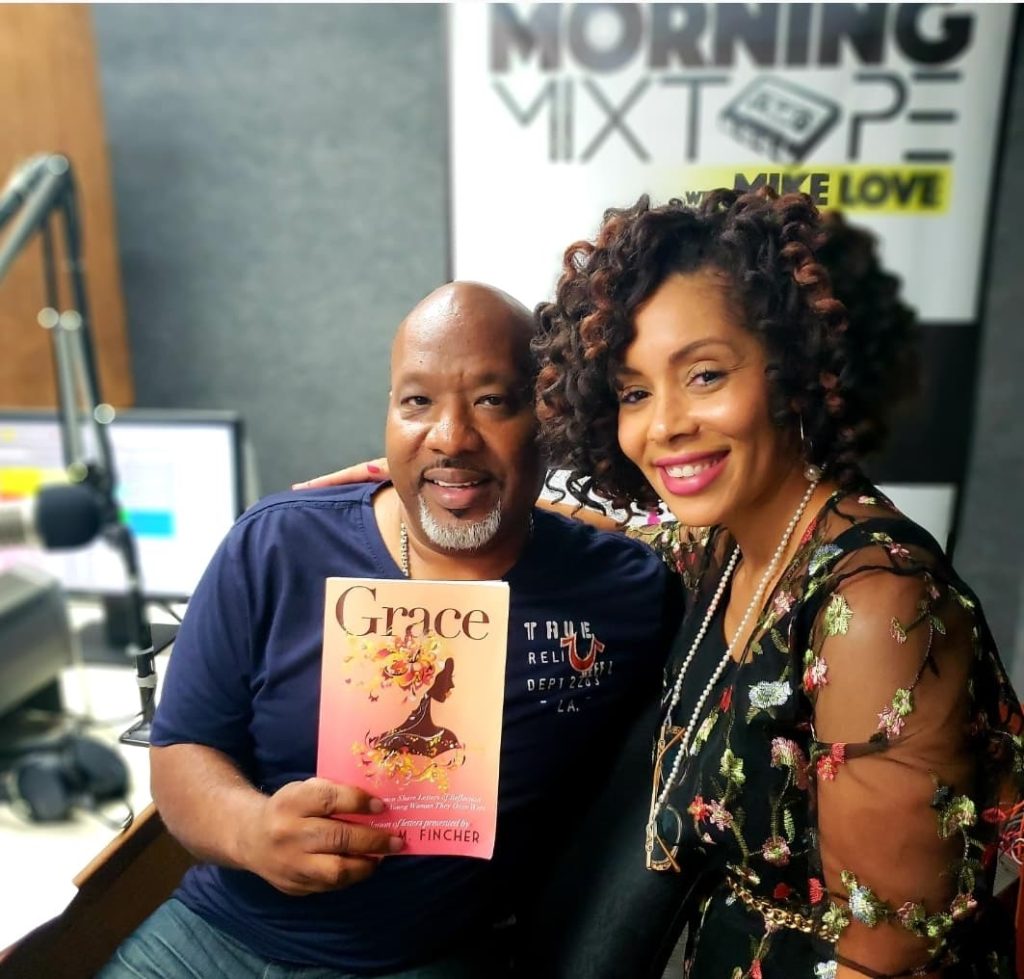 Media Tour Continues…
Big Hair!
In August, Tiffany M. Fincher, Lead Author of Gracevisited Windy City Live as an audience member and was blessed with an opportunity to meet Ryan and Carla Hall (who was guest hosting for Val Warner) after the show. With books on hand and in between vibes and chatter about their love for big hair, she was eager to share the Grace phenomenon with Carla.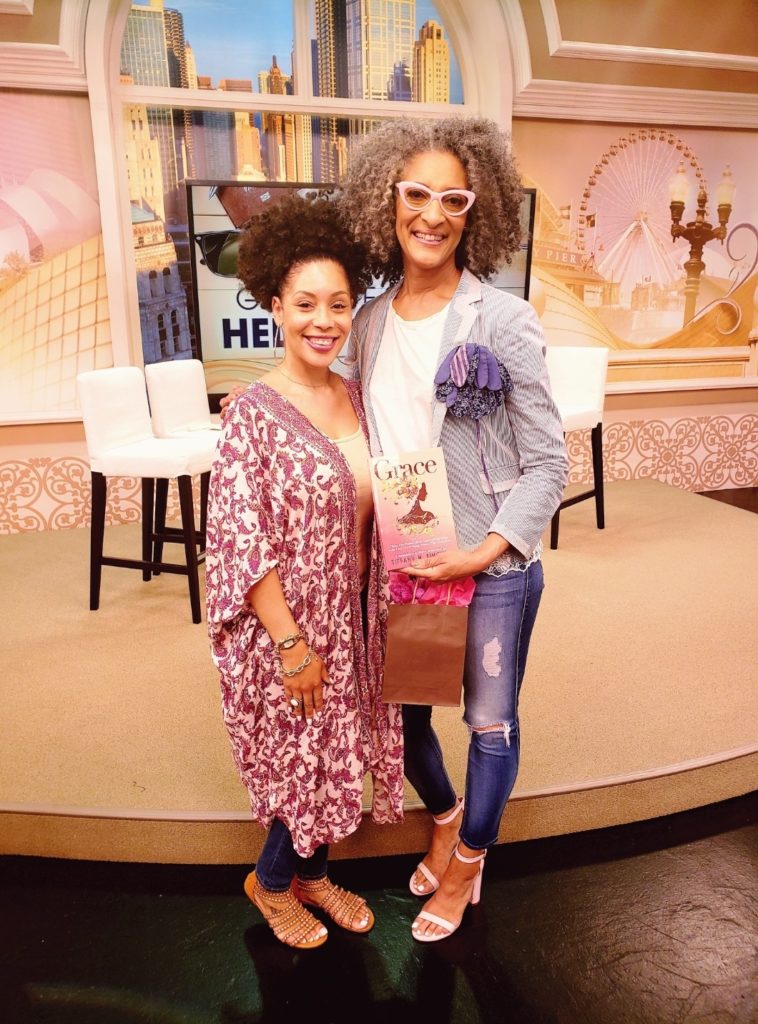 On August 21st, Tiffany received the Christine Smith Memorial Community Service Award given by the Smith Center of Community Advancement for the impressive body of work done through Aspirations of Life for the past 9 years.  In the same week she was honored with "Visionary of the Year"! This award was given to her as the lead author and visionary of Graceon August 23rd at the APS Awards Gala.
 
In the Fall- Guest on "The Authors Tea" with author and speaker, Kristen R. Harris
The Women of Grace were invited as featured guest to attend Professional Women's Network (PWN) Wine and Words, where authors shared their personal journey and answered questions about their chapter in the book, Grace.
In October, Heartland Alliance hosted Community Conversations. The Women of Grace participated as panelist. The lunch and learn sparked necessary conversations around women, and stories of healing and resilience.
The Women of Grace launched a 4 week virtual book club.
By the end of October The Women of Grace hosted a powerful 4 week prayer call, touching many lives.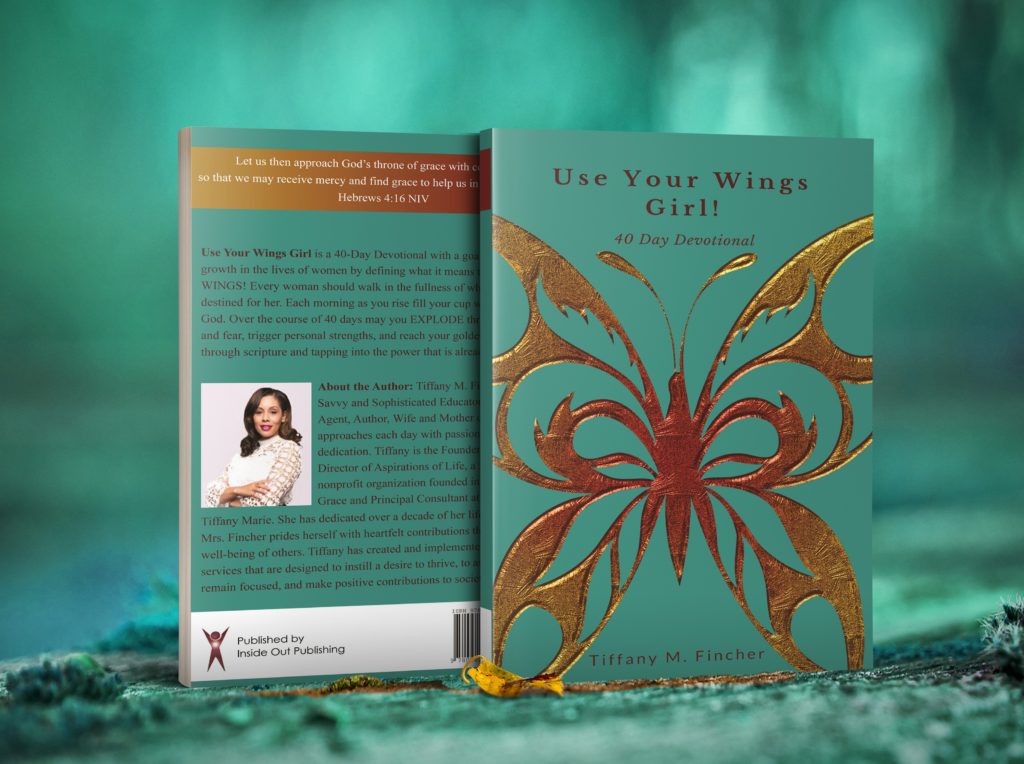 The official launch of "Use Your Wings Girl!" was on November 20th. The purpose behind the book's design is to foster growth in the lives of women and girls by defining what it means to USE YOUR WINGS GIRL! Over the course of 40 days the workbook journal serves as a guide to personal and spiritual growth.  
In the mist of the second book release, Tiffany received an award for Community Empowerment from 
Women Unshaken for her commitment to serve the community.
Before Thanksgiving, 
Pastor Angela Johnson with OneSista2Another invited Tiffany to her show to chat all things! She wanted to know HOW in the world does anyone find the time to publish 2 books in the same year! All while managing a nonprofit organization, full-time employment, being a wife and mother of 2 along with the many other hats she wears. As you might imagine it was an interesting conversation! 
Early Winter, an incredible opportunity presented itself to have both books; 
Grace and Use Your Wings Girl featured at Sokoni Holiday Pop-Up shop for 6 weeks.
Coffee and Conversation was
hosted
in 
Sokoni Pop-Up Shop's Book Nook. The atmosphere was set to relax, hear book excerpts from Grace, engage in dialogue and enjoy delicious desserts and coffee.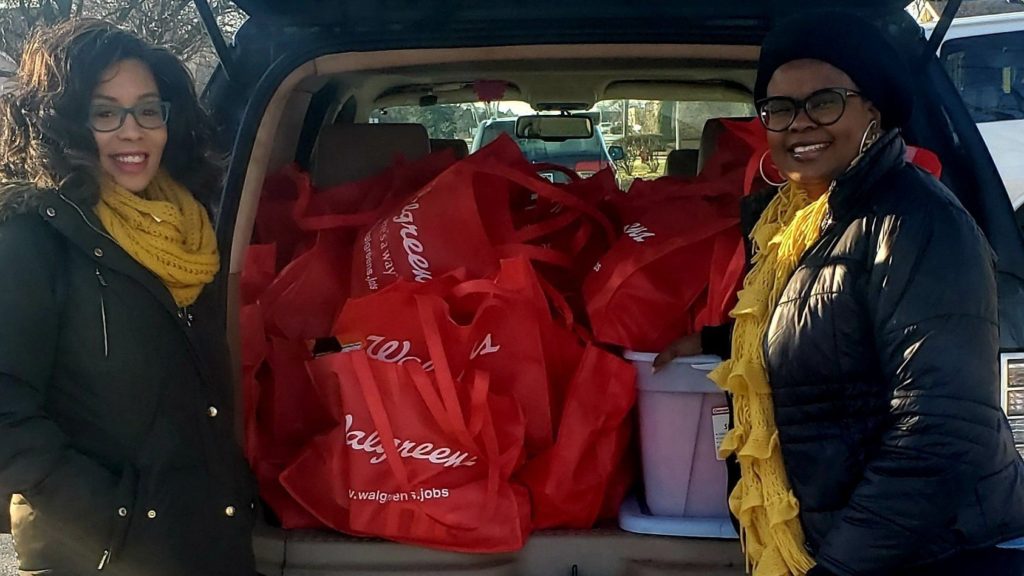 2018 came to a close much like it started; with purpose and intention. Aspirations of Life hosted a Donation Drive at Ready Set Relax Beauty Studio; hygiene items and snacks were donated to create care packages for women living in homeless shelters. A partnership with Heart of Service, nfp led to 60 large winter care packages being delivered to Tabitha House and St. Martin de Porres House of Hope.

In addition, Aspirations of Life donated to Chicago's youth participants in 100 Black Men mentoring program, and 150 toys were donated to children on the west side, south side, and south suburban communities.
2018 was a ride filled with non-stopped blessings and incredible opportunities that were beyond my wildest dreams! I am immensely grateful!!! 2019 has already blown my mind and I can't wait to share those happenings with each of you!