My husband and I recently purchased a new home. We lived in our last house for 13 1/2 years. As we began to pack it was a MUST that we decide what we would take to our new home and what we just had to LEAVE BEHIND. The process was much harder than I ever imagined! My daughter had a dresser that we purchased when she was born, 11 years ago. The dresser was functional for an infant. Don't laugh! I've been told that I have a hard time letting things go. We passed the dresser down to a family member because after all it was still in great condition. As I began to search for a new dresser I was unable to find one that was well made. They just don't make furniture like they use to! We began looking in consignment stores and I found the PERFECT dresser.   Now, the question is, do I want to take on the task of refurbishing the dresser. I've refurbished plenty of small pieces, but nothing this big. I decided to buy the dresser and go for it! Why not? I believe in 2nd chances and I certainly believe in saving coins whenever possible!
I started with watching a million YouTube videos to figure out how to get around sanding. It's too MESSY and time consuming. Here are some quick easy instructions:
First, remove all the drawers from the dresser.
Using the appropriate screwdriver, take off all the knobs.
Wipe the surface clean using a damp towel.
Using a paint brush apply primer. I used a primer by Zinsser. It sticks to surfaces well and DOES NOT require sanding
Allow the primer to dry before applying paint. It should dry within 1-2 hours.
Next, apply paint color of your choice USING A ROLLER. Do NOT us a paint brush to apply the paint. I recommend using Rust-Oleum Semi -Gloss paint.
Replace knobs or spray paint existing knobs.
Once everything is dry re-attach the knobs and put the drawers back on.
Not too shabby!! What do you think? 
 Before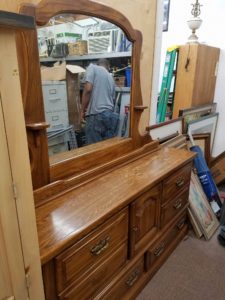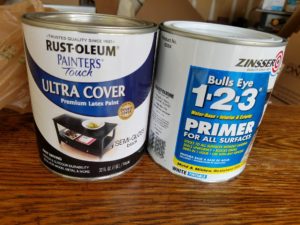 After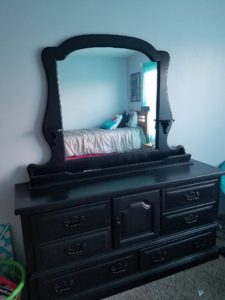 What's Next?